Arenal Beach of Jávea
Located in the heart of the picturesque Xàbia bay, the Arenal Beach stands as a natural treasure in the municipality of Jávea, being the only sandy beach in the region. This fascinating destination combines the softness of its golden sand and the tranquility of its shallow waters, making it an ideal refuge for families, bathers, and tranquility lovers. Awarded the prestigious "Blue Flag" certification, Arenal Beach not only promises a safe and enjoyable bathing experience but also showcases Jávea's dedication to environmental conservation and service excellence. The distinctive lifeguard service provided by the Red Cross, along with splendid facilities for people with disabilities, reflect the locality's commitment to safety and inclusion.
Moreover, the vibrant nightlife, local festivities, and gastronomic diversity surrounding Arenal's promenade, add a touch of liveliness that captivates everyone who visits it. This enclave, framed by the Fontana channel to the north and Montañar Segundo to the south, not only offers a sublime beach experience but also invites to explore the opportunities of luxury real estate nearby, becoming a core attraction for both visitors and those interested in finding a home in the paradisiacal environment of Jávea.
Exploring the Excellence of Arenal Beach in Jávea
The Arenal Beach in Jávea is a natural gem that boasts the prestigious Blue Flag certification. This recognition is granted to beaches that meet the highest standards of water quality, environmental education, and safety. The Blue Flag certification not only reflects the quality and natural beauty of Arenal Beach but also Jávea's dedication towards sustainable and responsible tourism.
In addition to the Blue Flag certification, Arenal Beach has received other recognitions that endorse its excellence in services and safety. The sophisticated lifeguard service provided by the Red Cross is a testimony to the importance that Jávea places on the safety of visitors. The highly trained lifeguards are always vigilant to respond to any emergency situation, thus ensuring a safe and enjoyable experience for all visitors.
The Arenal Beach stretches for 480 meters in length and has a width of 140 meters, offering ample space to enjoy the sun, sea, and sand. Its coarse sand and shallow waters are ideal for families and bathers, while accessible facilities and equipment for people with disabilities ensure the beach is inclusive and welcoming for all. Moreover, the variety of recreational and sporting activities available on the beach and its surroundings add a touch of adventure and fun to the Arenal Beach experience.
Arenal Beach is not only a popular beach destination but also the heart of social and cultural life in Jávea. The numerous restaurants, bars, and ice cream parlors along Arenal's promenade offer a delicious taste of local cuisine, and the celebrations and events held on the beach throughout the year provide a festive and vibrant atmosphere that captures the essence of life in Jávea.
Services and Accessibility at Arenal Beach
The Arenal Beach is recognized not only for its natural beauty but also for the wide range of services it offers to its visitors. From umbrella and sun lounger rentals to well-maintained sanitary facilities, the beach strives to provide all the necessary comforts for an exceptional beach experience. Additionally, the presence of a tourist office and various gastronomic establishments on the promenade allows visitors to explore the local culture and gain valuable information about the area.
Accessibility is a priority at Arenal Beach. Various facilities have been implemented to ensure the beach is accessible to everyone, including people with disabilities. The beach features ramps and wheelchairs, as well as a special area reserved for people with disabilities, providing a safe and comfortable environment to enjoy the beach. Moreover, the assisted bathing service is offered free of charge, although it requires prior reservation, thus ensuring an inclusive and personalized experience.
Umbrella and Sun Lounger Rentals: For those seeking comfort and relaxation under the sun.
Sanitary Facilities: Include toilets and showers for the convenience of visitors.
Tourist Office: Provides information and assistance to visitors about local attractions and available services.
Gastronomic Establishments: A variety of restaurants, bars, and ice cream parlors offer a taste of local and international cuisine.
Accessibility for People with Disabilities: Ramps, wheelchairs, and a special reserved area ensure the beach is accessible for everyone.
Assisted Bathing Service: Offered free of charge with prior reservation, ensuring a safe and enjoyable bathing experience.
Location and Access to Arenal Beach
The Arenal Beach is located in the municipality of Jávea, in the province of Alicante, on the beautiful Costa Blanca of Spain. This beach is a popular destination for both locals and tourists, thanks to its easy access and proximity to other attractions in the region. It is situated in an urban setting, which means there are many facilities and services in the surrounding area, including a wide range of accommodation and dining options.
Reaching the Arenal Beach is fairly straightforward. If you come by car, there are several parking lots available near the beach. Additionally, the area has a good public transportation network, including local buses that connect Arenal Beach with other parts of Jávea and neighboring towns. For those who prefer a more picturesque arrival, it is also possible to arrive by boat, as there is a nearby harbor, the Jávea Nautical Club, located about 3 km from the beach.
By car: There are several parking lots near the beach, making access by car easy.
Public transportation: Local buses connect Arenal Beach with downtown Jávea and other surrounding areas.
By boat: The Jávea Nautical Club is relatively close, allowing a maritime arrival at the beach for those who prefer it.
By bicycle or on foot: For the more adventurous, the beach is also accessible by bicycle or on foot, and there are trails and bike lanes leading to the beach.
Activities and Entertainment at Arenal Beach
The Arenal Beach stands out as a hub of activity and fun in Jávea. Besides being an ideal place to relax in the sun and enjoy the calm waters, the beach offers a variety of activities ensuring entertainment for all audiences. Among the available sports facilities, there are spaces dedicated to playing basketball, allowing visitors to stay active while enjoying the beautiful coastal environment.
One of the most anticipated events of the summer in Xàbia is the Cine Vora la Mar cycle. This cultural and leisure initiative, driven by the City Council, is completely free and aimed at all audiences. During the months of July and August, Arenal Beach transforms into an outdoor cinema, gathering hundreds of locals and visitors to enjoy various film screenings under the stars. The Cine Vora la Mar proposal not only offers entertainment but also a unique opportunity to enjoy cinema in a natural and relaxing seaside environment.
The weather at Arenal Beach in Jávea
The Arenal Beach in Jávea enjoys a Mediterranean climate that makes it a pleasant destination all year round. With temperatures generally ranging between 9 °C and 28 °C, it's rare to experience extremes of cold or heat, making this beach an ideal place to relax and enjoy the natural environment. Over the course of the year, the temperature generally varies from 9 °C to 28 °C and rarely falls below 5 °C or goes above 30 °C. Based on the beach/pool score, the best time of year to visit Jávea for warm-weather activities is from late June to early September.
The summers in Jávea are hot, dry, and mostly clear. The warm season, which is ideal for visiting the beach, lasts for about 3 months, from June 25 to September 25, with an average daily high temperature above 25 °C. August is the warmest month, with an average high of 27 °C and a low of 23 °C.
The winters are long, cool, windy, and partly cloudy. The cool season lasts for about 4.3 months, from November 26 to April 5, with an average daily high temperature below 18°C. January is the coldest month, with an average low of 9°C and a high of 15°C.
The Arenal Beach is known for having favorable beach conditions most of the year. Its Mediterranean location allows for minimal tide variation, keeping the sand mostly dry and ready to welcome visitors looking for a relaxing escape by the sea. Additionally, in this area, the weather is almost always pleasant. Like most Mediterranean beaches, it has very little wet sand, as the tide variation is insignificant.
Exquisite Gastronomy at Arenal Beach
The Arenal Beach in Jávea is not only known for its crystal clear waters and soft sand, but also for the rich gastronomy surrounding this area. The restaurants near the beach offer a variety of delights that satisfy all palates, from the most traditional to the most adventurous. With a breathtaking view of the Mediterranean, dining at one of these establishments is an experience that goes beyond a simple meal.
Here is a list of some notable restaurants near Arenal Beach according to Tripadvisor:
Restaurant Tula: The Tula restaurant, with one Michelin star, is a tribute to traditional Mediterranean cuisine, exemplifying the honesty and simplicity of the dishes that have defined the region for generations, blending modern techniques with flavors of game, sea, and mountain.
Posidonia Restaurant: A place with a wide variety of Mediterranean dishes.
La Fontana: Known for its cozy atmosphere and excellent service.
Carnaval Javea: Offers a unique culinary experience with a diverse menu.
Bohemians: Ideal for those who enjoy a good meal in a relaxed atmosphere.
Pizzeria Pepa: For pizza lovers, this place is a must-visit.
Bar BBQ Fuego - Javea: Known for its barbecues and grilled meats.
Chabada: A restaurant with a modern atmosphere and creative dishes.
Lungo Mare: Offers a variety of Italian dishes in a charming seaside setting.
Geographic: With a varied gastronomic offer and a pleasant atmosphere.
Es Tapa Ti: For those wishing to explore authentic Spanish cuisine through tapas.
Renting and Purchasing Luxury Properties at Arenal Beach in Jávea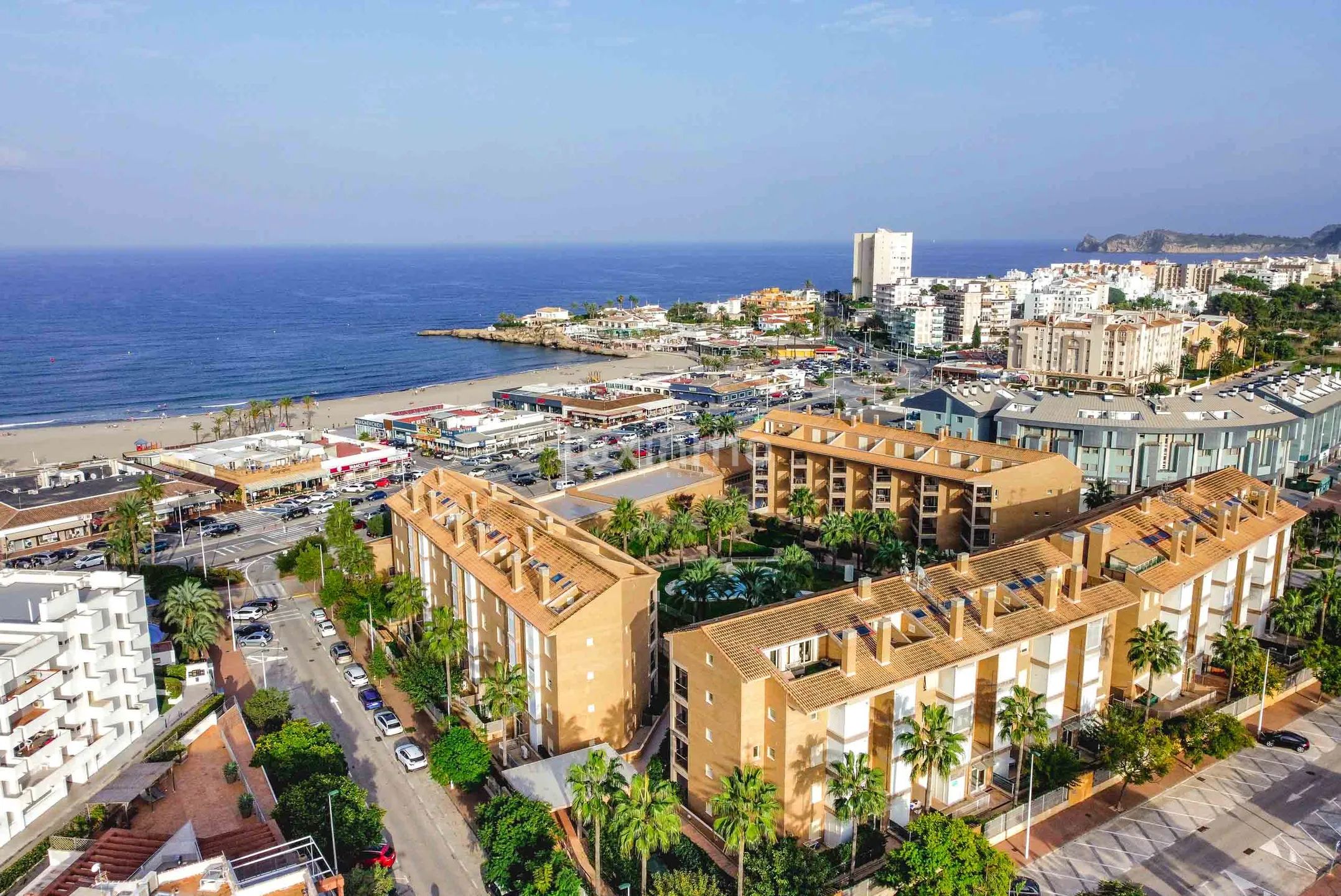 The Arenal Beach in Jávea is a coveted destination for many, thanks to its natural beauty and the wide range of services and activities it offers. This popularity is also reflected in the demand for rentals and purchases of luxury apartments in the area. Apartments near Arenal Beach offer the convenience of being a few steps away from the beach, in addition to providing breathtaking views of the Mediterranean. The proximity to restaurants, bars, and local shops, coupled with the tranquility and beauty of the surroundings, make this area an ideal place to rent or buy a luxury apartment and enjoy a relaxing vacation or a weekend getaway.
If you are interested in renting luxury apartments in Jávea Arenal Beach, there are a variety of options available, from modern and luxurious apartments to more economical and cozy options. Many of these apartments are equipped with modern amenities and offer facilities such as community pools, private terraces, and direct access to the beach. To explore the rental options available, you can visit apartment rentals in Jávea Arenal Beach.
Regarding the purchase of luxury houses and apartments in the area, there is also a wide range of options to fit different preferences and budgets. Buying a luxury property near Arenal Beach is a valuable investment, as the area retains a special charm and high real estate value. You can explore the purchasing options available at properties for sale at Arenal Beach in Jávea.